Email Marketing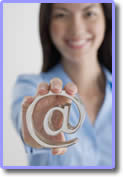 Email Marketing is the future. Why spend money on direct mail that goes in the trash when you can reach your customers right at their desk?
We have strategic relationships that can help your business grow.
Let us show you how you can benefit from our professional permission-based online campaign system. Through our strategic alliances, we can deliver the same technology used by fortune 500 companies like The Home Depot and American Express to local small businesses.
You can qualify for a free consultation by completing the simple information request form below.